The NEW Manitou MRT 2470 telehandler
Manitou Group has launched two rotating telehandlers, one of which is the first to offer a load capacity of 7 tonnes at more than 20m height.
The MRT 3050 and MRT 2470 complement the side MRT range that is suited for high-rise construction work.
Manitou introduced the machines at its headquarters in France during a presentation attended by 200 people and broadcasted across social media. It was first time Manitou had used this format to launch a product – it can still be seen at www.manitou.com.
The MRT 3050 lifts up to 5 tonnes and provides easier maintenance access and stabilisers with a deployment length of up to 6.25m. They are now fitted with a strain gauge system, which ensures more accurate and secure detection of the pressure of the stabilisers on the ground. The user can also check the extent of deployment thanks to a dashboard display.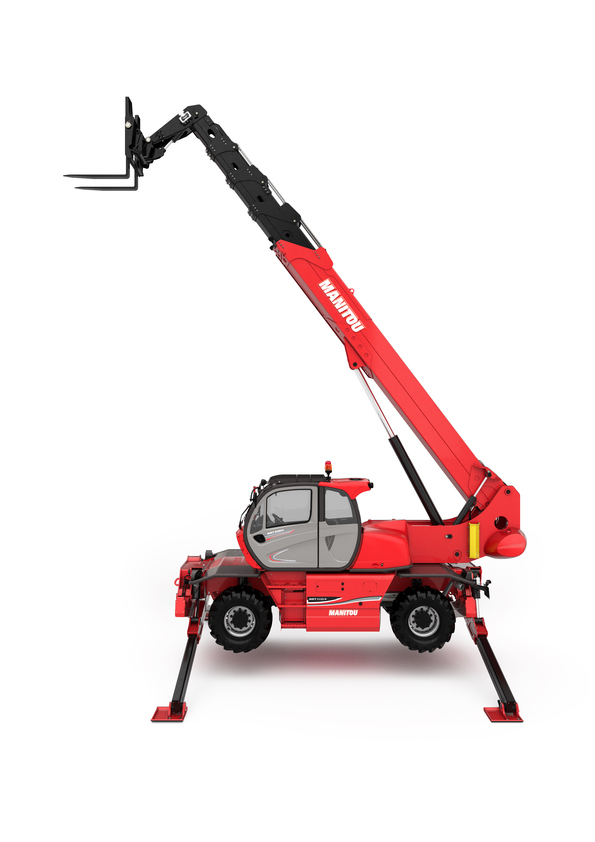 Equipped with a two-ratio hydrostatic transmission, the MRT 3050 has a maximum speed of 40km/h. The manufacturer said the model fulfils a particularly strong demand in northern Europe and has many applications, such as the construction of residential buildings, industries, roofing and structural steelwork. It is equipped with a Mercedes 176 hp Final Tier IV engine.
With a boom reach of 24 m for a load capacity of 7 tonnes, the MRT 2470 is a response to the needs of heavy high-rise construction. Like the MRT 3050, the new MRT 2470 has a new chassis with a newly-designed counterweight for maximum stability with the load at 24m.
With its hydrostatic shift-on-fly transmission option, the model allows the operator to choose between a manual or automatic gearbox. With two ratios, the maximum speed of the MRT 2470 is 40 km/h.
Cab access is provided with a wider footboard aligned with the cabin. Optionally, there is an electronic stairway with an extra step that slides out when the stabilisers are deployed, making it easier to get in and out of the cab. This means the machine can be raised 23cm when the stabilisers are completely deployed.
For indoor applications, a dual-energy engine with an electrical system is also available as an option to reduce noise and engine emissions and total cost of ownership (TCO).
Better access allows the user to easily change the air and oil filters. The grease points have also been positioned so they can be easily identified by the operator. A screen on the dashboard allows better preventive maintenance, with information about part replacement intervals, depending on usage.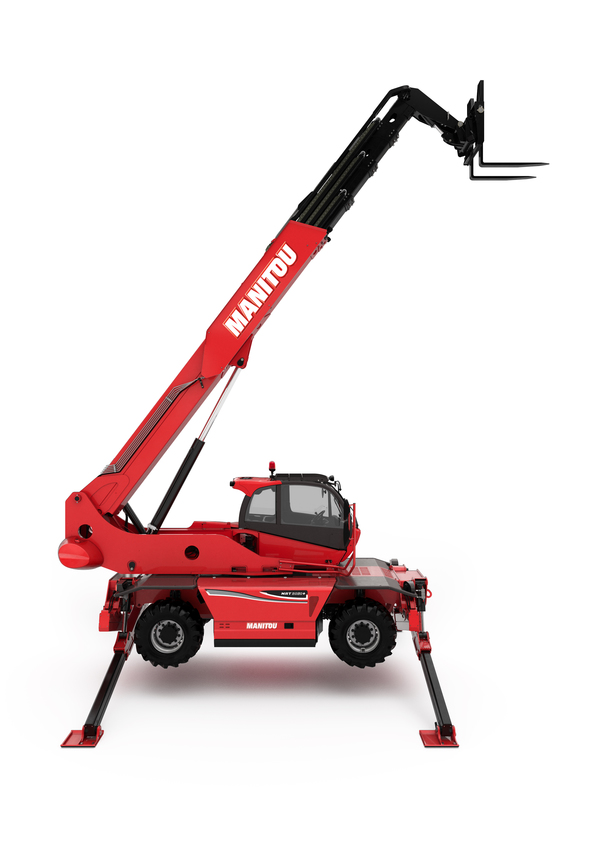 Innovative attachments
See also www.roforks.nl/ the rotating forks for this telehandler

Contact
Manitou 4 sterren dealer
Manitou spareparts
Moderne werkplaats
Wereldwijde levering